RETAIL PRO COMMUNITY RESOURCES
RPU Hosts Technical Training for New Retail Pro Enterprise POS and Visual Analytics Products
October was a busy month for Retail Pro University, which hosted a special training session for Retail Pro Business Partner sales executives at the 2017 Retail Pro Global Council in San Diego, CA and two technical training events for its latest products – enterprise POS and visual analytics.
SYSxpo Training Tour Goes to California
SYSxpo training events are designed to introduce technicians to the core features and functionality of Retail Pro Prism. On display at the latest stop was Retail Pro Prism 1.11, released November 2nd.  Participants got a look at new features, including the new Promotions module.
While the course covers the core features and functionality of Retail Pro Prism, students also got an inside look at some more advanced topics like:
Deploying Retail Pro Prism under different configurations
Customizing the client-side user interface
Document designers
Retail Pro Prism web-based reporting (powered by Krunch)
Setting up and using the new Promotions module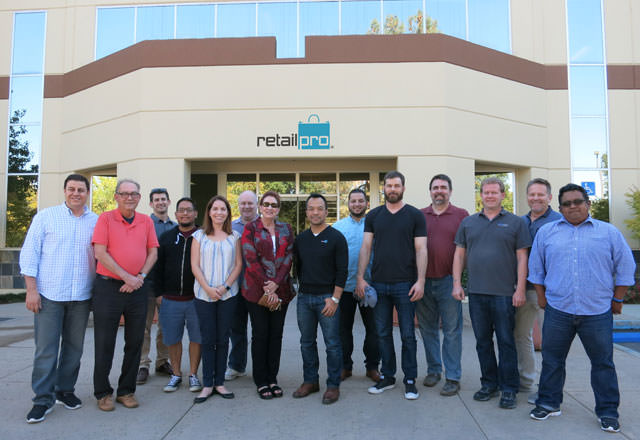 SYSXpo participants pose for a group photo on the final day of class.
This year, the SYSxpo training events were held in key locations throughout the world to offer greater ease of access to the training opportunity for Retail Pro partners and retailers using or migrating to Retail Pro Prism. Additional locations which hosted the training seminars included El Salvador, Thailand, and United Arab Emirates. The fourth in a series of five SYSxpo events was held at Retail Pro International headquarters in Folsom, California on October 23 – 28. Participants included representatives from Retail Pro customer, Kroenke Sports and Entertainment; Retail Pro Business Partners throughout the United States, including Retail Technology Centers, Big Hairy Dog, One Step Retail, Retail Information Systems, and International Micro Systems; and a Retail Pro integration partner, flexReceipts.
Many of the attendees took advantage of the opportunity to interact with their counterparts in the technical support department. For partners traveling to Folsom for an in-class training, the ability to meet with Retail Pro staff is a strong bonus.
Some of the awesome techs from One Step Retail
Retail Pro University Director, Ket Venethongkham, commented, "Technicians are excited to get it out in the field and we've already heard about some extremely successful deployments. The whole point of SYSXpo is to get technicians comfortable installing, deploying, and supporting Retail Pro Prism."
SYSXpo participants working on an in-class project in Retail Pro Prism.
At the end of the six-day class, each participant received two Retail Pro certifications:  Retail Pro Prism Systems Engineer (RPPSE) and Retail Pro Prism Applications Expert (RPPAE).  Attending one of the five SYSxpo events in 2017 is the only way to obtain Retail Pro Prism certification at this time. The cost of certification is included in the session registration fees. 
Additionally, technicians needing to renew their Retail Pro 9 certifications were able to do so at the SYSxpo events for no additional charge.
The final stop for SYSxpo will be held on November 13 – 18 in London, United Kingdom.           
These training events have limited spots available, to ensure greater trainer to student ratio and more in-depth interaction with the product. Inquire with training@retailpro.com regarding availability.
Launched: Retail Pro Decisions Certification
In addition to training on Retail Pro Prism enterprise POS, Retail Pro University also launched the first certification class for Retail Pro Decisions, a best of breed Business Intelligence and visual analytics solution. Retail Pro Decisions is fully integrated with the Retail Pro platform and based on methodology from TARGIT, a company with 20 years of BI software experience and 5,500 customers in 60 countries.
The week-long class was held at the Retail Pro International HQ on October 17 – 20, 2017. The class was led by Danilo Rufino, Market Strategy Manager from TARGIT. Attendee representation included the Retail Pro tech support team and Business Partners M. X. Data and Big Hairy Dog, each of whom earned certification in Retail Pro Decisions.
Venethongkham commented, "This was a very immersive look into the BI and visual analytics product not only from the perspective of a user but of someone who needs to design data-driven dashboards and complex analysis tools. The certification will allow us to support Retail Pro Business Partners who are deploying Retail Pro decisions in the field."
Participants in the Retail Pro Decisions certification class take a break to pose for the camera. Danilo Rufino (right), Targit Market Strategy manager, taught the four-day class at Retail Pro headquarters in Folsom.
Xavier Degryse, CEO of M.X. Data, commented, "[Danilo's] deep knowledge of the Retail Pro Decisions platform allowed all of us to come out of this training with the right amount of knowledge to get us jump started in the ever-growing BI world." 
Shortly after concluding the class, M. X. Data reported that they had just signed a contract with a client that included the Retail Pro Decisions product.  
The entire training team from Retail Pro will be participating in more Retail Pro Decisions training courses, including trainer certification courses. Once that training is complete, Retail Pro University will begin developing in-house training programs for Retail Pro Decisions and offering a certification for our partners.  
"It's a very exciting time for the training department," said Charles Davidson, Retail Pro Training Specialist. "With all the advances in Retail Pro Prism development, we will be releasing several new training products for our partners. We're looking forward to meeting the increased demand for both Retail Pro Decisions and Retail Pro Prism training."
Students from the Retail Pro Decisions class took some time out to enjoy the Retail Pro company picnic on the last day of class. Shortly after this photo was snapped, it was back to studying for the certification exam.  
If you have questions about training for Retail Pro Decisions, you can contact the training department at Retail Pro by sending an email to training@retailpro.com.
New Content
August
July
June
April
REQUEST A FEATURE
Have Retail Pro functionality ideas? Share them!