RETAIL PRO COMMUNITY RESOURCES
Techs Dig into Latest Version of RP Prism at 2017 SYSxpo's final stop in London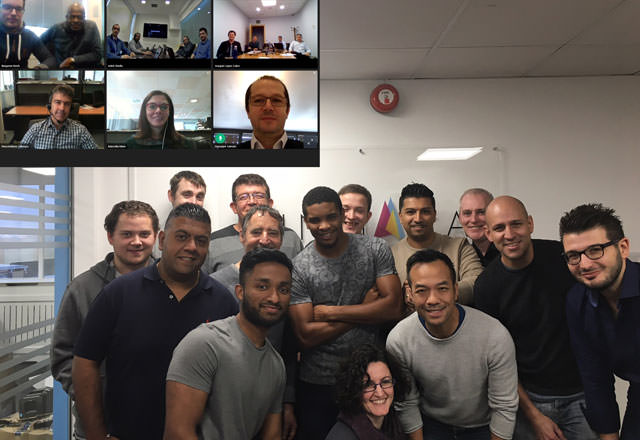 Retail Pro University wrapped up their SYSxpo Retail Pro Prism training tour with a final stop in London just before the launch of the holiday retail season, November 13 – 18.
The week-long class was the conclusion to sessions held worldwide, in El Salvador, Thailand, United Arab Emirates, and the Retail Pro International headquarters in Folsom, California. SYSxpo events this year attracted 109 attendees world-wide.
Digging into New Features in Latest Retail Pro Prism Release
Participating technicians walked through installation and support for the robust out-of-the-box features in Retail Pro Prism.
The London and California classes got to roll up their sleeves and dig into new and enhanced functionality in the the latest release, Retail Pro Prism 1.11, including:
Retail Pro Prism Reporting module powered by Krunch
Support for Biometric login
Connection manager enhancements
iOS launcher update with streamlined setup and configuration, and ability to use onboard camera at the POS, eliminating the need for additional Bluetooth scanners
Control and validation of serial and lot numbers against known numbers in Retail Pro Prism inventory
New preferences to handle lot numbers past the expiration date
Quantity checking for items that are previously committed for movement or sale
Permissions to control users' ability to update receipts that have no items listed (e.g. fees)
Gift card purchase and redemption verification against the Centrals server in real time to prevent gift card fraud and abuse
Retail Pro Director of Channel Sales for Europe, Alex Smith, reports, "The feedback I have had from many of the London attendees has all been positive. Adoption of Retail Pro Prism is in full swing."
Europe-based Retail Pro Business Partners Equipped to Support Retail Pro Prism
Hosted at the headquarters of Pinnaca Retail Solutions, London-based Retail Pro Business Partner, the class boasted 29 technicians, making it the largest class this year. 
Retail Pro Business Partners attending included Cosin Consulting, Data.Noesis, Datascan Retail Systems, Dedagroup Steath, International Micro Systems, POSPartner Germany, Retail Technologies, Retail Management Solutions, and Venistar.
In addition to Retail Pro Business Partners, SYSxpo events were attended by development partners and end users.
Retail Pro University Director, Ket Venethongkham, led the teams of Retail Pro Business Partners through the training. Ket works directly with SYSxpo participants in limited-seating, hands-on workshops to allow for in-depth product exploration.
He comments, "I believe we succeeded in equipping Retail Pro partners with knowledge and skill to confidently support retailers leveraging Retail Pro Prism." 
RPU Launches Live Training Online
This overflow in attendance was due, in part, to a pilot program allowing the class to be streamed live over the internet. 
Partners who sent at least one attendee were also able to invite other employees to participate via GoToWebinar software.
In addition to those attending class live, representatives in six different countries participated remotely. 
This is the first time that Retail Pro has attempted to stream a live class and the effort resulted in 48 hours of broadcast recordings that will be made available for future trainings.
Keeping Up with On-Going Product Enhancements
On the last day of the six-day training, participants were administered certification exams for the Retail Pro Prism Applications Expert (RPPAE) and Retail Pro Prism Systems Engineer (RPPSE).
This year certification is only available at the live SYSXpo events. Online certification courses will be released early 2018. 
In addition to earning Retail Pro Prism certification, participants were able to renew their Retail Pro 9 certifications at the class at no extra charge. A total of 74 people renewed their certifications during the five SYSxpo events this year.
Wrapping Up
Overall, SYSxpo 2017 has been a great success.
Retail Pro University would like to thank our Retail Pro Business Partners who helped plan and host the events, and those who participated.
We look forward to seeing many retailers and tech partners at the SYSxpo 2018 events!
Contact training@retailpro.com today to get on the list.
New Content
October
August
July
June
April
REQUEST A FEATURE
Have Retail Pro functionality ideas? Share them!