RETAIL PRO COMMUNITY RESOURCES
2017 SYSxpo Retail Pro Prism Training Series Launches in El Salvador
Attendees at the Retail Pro SYSxpo in El Salvador were introduced to some of the latest features of Retail Pro Prism in a six-day, hands-on workshop in El Salvador beginning on August 21st. The goal of the event was to introduce technicians to new features and to provide them with the knowledge and skills to support the latest release of Retail Pro Prism. This is the first of a series of global Retail Pro Prism training events to take place over the course of this year. 
The course was taught by Ket Venethongkham, Director of Retail Pro University, Jason Hogge, Manager of Technical Support at Retail Pro, and Rick Fuentes, Director of Channel Technical Development.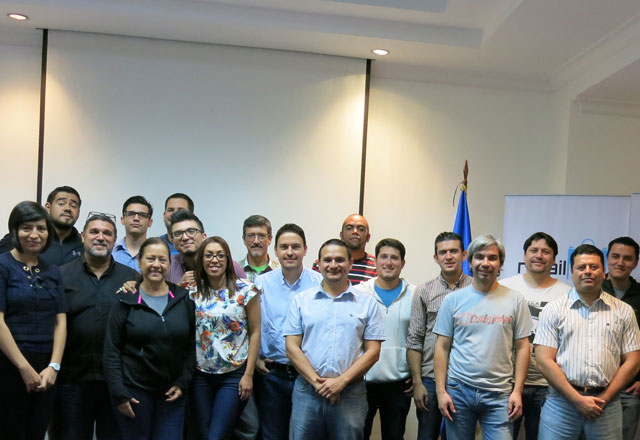 Graduates of the 2017 SYSxpo training event in El Salvador.
"What we really wanted to do," said Venethongkham, "was to provide a wealth of information to enhance the technical skills of the people who provide front-line support for Retail Pro Prism. We wanted to get them excited about the product while at the same time making sure that they understand it from the inside out."
Twenty-one technicians from Retail Pro partners in Latin America attended the event, as well as an IT support technician from a Retail Pro customer. "Ninety-five percent of our partners from Latin America were represented at the training," Venethongkham said. "That shows us that there is overwhelming enthusiasm for Retail Pro Prism among our partners. We want to support them by giving them the confidence to push the product out and support their customers properly."
Grupo EJJE hosts the 2017 SYSxpo training event in El Salvador. 
Retail Pro partner Grupo EJJE took the lead in hosting partners from all over the region in their home city of San Salvador. In addition to providing local support, they organized after-hours social events for the participants. 
SYSxpo participants enjoying El Salvadorian pupusas at dinner following the last day of class. 
"I would like to recognize Grupo EJJE's team as they were excellent hosts," wrote Ictzel Morales, who works with Retail Pro Partner Ambit Technology in Mexico. Yamilet Ortiz from Eniac in Venezuela echoed the sentiments. "Very grateful for the attention that [Grupo EJJE] gave us," Ortiz wrote. "They were always very attentive."
One of the new features that was introduced during the training was the promotions module. Participants received a demonstration and hands-on training in using promotions in Retail Pro Prism during the training.
"I am happy to report that I was very satisfied with the course," wrote Irving Bennett of Bennett, Ltd., a Retail Pro partner in Panama. "We are already engaging a customer, maybe two, to go forward with a lab and a test site."
Shaff Kassam, Retail Pro Regional Vice President for Latin America, was also on-hand during the event. He was very happy with the results.  "Based on the feedback I have received to date from the [Latin America] partners," he wrote, "I believe the Retail Pro Prism class held in El Salvador last week was a great success and extremely productive and informative for all those who attended!"
Ket Venethongkham explains a feature of Retail Pro Prism during the SYSxpo event in El Salvador.
At the end of the six-day class, each participant received two Retail Pro certifications: Retail Pro Prism Systems Engineer (RPPSE) and Retail Pro Prism Applications Expert (RPPAE). Attending one of the five SYSxpo events in 2017 is the only way to obtain Retail Pro Prism certification at this time. The cost of certification is included in the session registration fees. 
Additionally, technicians who need to renew their Retail Pro 9 certifications can do so at the event for no additional charge.
Ket Venethongkham and Rick Fuentes demonstrate Retail Pro Prism at the 2017 SYSxpo training event in El Salvador. (Photo credit: Grupo Ejje)
The SYSxpo workshop in El Salvador is the first of five global sessions to be held this year. The next class will be held in Bangkok, Thailand from September 11th to the 16th. We are still accepting several more registrations per session. To reserve your spot, email training@retailpro.com with the student name, email address, and class location preference. Registration fees vary by class.
New Content
August
July
June
April
REQUEST A FEATURE
Have Retail Pro functionality ideas? Share them!